Human Cannonball Job Posting (circa 2001)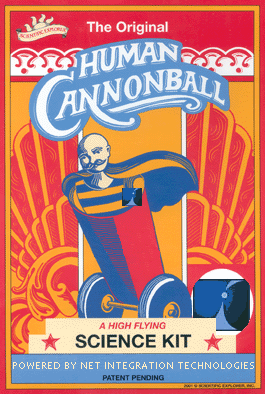 You know who you are. You know everything, and what you don't know you can pick up if we would just leave you alone for a few hours.

You're the kind of person who installs Linux on your toaster in the morning, then in the afternoon adds a new feature to your software project while cutting the code size in half. You know whether latency is more important than bandwidth, and why. You can explain the difference between RSA and DSA, even without using the word "patent."

You know twelve different languages, at least one of which is spoken by humans, and although one is your favourite you can imagine when you might use each of the others.

You abhor redundancy and would never want to say the same thing twice. If your job gets repetitive, you write a perl script to do it for you, then take an extended lunch.

You have a bit of an ego problem.

You want to work with us on cool new projects like these:
User-friendly network appliance servers and zero-administration workstations.
Clustering, bandwidth management, server failover, and cheap terabyte RAID servers.
Advanced peer-to-peer filesystems that aren't just used for MP3 files.
You have most of these skills:
C, C++, and Unix shell programming. (Bonus points for perl, PHP, awk, python, html, java, and scheme.)
Linux kernel hacking, or other low-level OS development.
Understanding of modern rapid development techniques, like open source, rapid prototyping, and team programming.
Usability assessment and human interface design.
Great ability in written and spoken English.
Limitless self-motivation and creativity.
If this sounds like you, please e-mail us at [removed].